An old school bike racer, Steve joined the company in 2014 to help Lloyd make his vision of a range of Light Blue bikes a reality.
With more years riding and racing 'push bikes' than he cares to remember, our Brand Manager lives and breathes bicycles. When he's not at work he's organising, officiating and even racing and riding himself, all Steve's family are cyclists and he's heavily involved in the club and race scene. So when he first came to see Lloyd, he instantly understood where the brand was coming from and could still see a very definite potential for steel bicycles.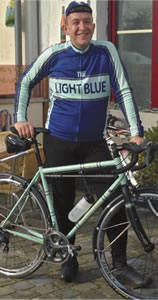 "I was impressed with The Light Blue bikes and despite the frames being factory built in Taiwan, they were every bit as attractive as a hand built frame from an artisan British frame builder. The design, quality of build and finish was first class.
"Cycling and the bikes are big in the UK now and I knew that there was a pretty big interest in retro steel bikes, with events like L'Eroica. Many new cyclists, as well as the old ones were starting to realise that bikes made from steel, were in fact every bit as good carbon or aluminium and very desirable."
Steve joined the Light Blue and at the end of the first week he packed a van and took The Light Blue Kings and Trinity to the inaugural L'Eroica Britannia in Derbyshire.
"I was blown away by the interest in our bikes and my intuition was confirmed. The event was a massive success with thousands of visitors all interested in retro steel bikes and all potential Light Blue customers.
As well as exhibiting the bikes Steve also rode the event, around the Derbyshire dales, "Not only did the bikes look good, they rode well too. We only did the short ride and we took our time, but the Kings that I rode was really comfortable and handled well, just as you would expect. It climbed well too, in fact it was spot on and I couldn't fault it."
Although our Brand Manager has been around since before the modern frame materials mentioned above, that's not say he's steeped in the past and he's been working on the modern steel bikes too, "Also using Reynolds tubesets, we've developed three very interesting contemporary bikes, that will cover most road bike requirements you can think of.
"We've got same great designs and builds, from fast road/sportive to bike trekking and long distance continental touring, we've got a bike for almost any occasion.
"Again, I've ridden them a fair old bit and although Lloyd says they're not designed for racing I've done a bit of road racing on the Wolfson. Also, I've fitted it with mudguards and ridden across Flanders (and the associated cobbles) and up taken it up mountains on a Spanish training camp. None of which phased the Wolfson and it performed superbly."
So, Steve, along with Lloyd has steadily been finalising the details and fine tuning the designs and features of the whole range, to provide an impressive family of retro and modern steel tubed bicycles.
Our Retro frames are of a classic design from Reynolds steel tubing using traditional lugged/brazed construction. With a 1" threaded headset and trusted creak-free BSA type threaded bottom brackets, all these frames offer classic style and reliability.
Our Modern frames are also made with Reynolds steel tubing, but are tig welded to save the lug's weight. (Notably – 853 Wolfson frame is one of the lightest steel frames available.)
They all feature Bi-oval downtubes to reduce lateral bottom bracket flex and oval top tubes to deliver optimised lightweight strength. The sloping geometry top tubes allows for more flexible seatpost extensions and improved ride comfort.
All of our modern frames have corrosion resistant ED coated base finish.
The Wolfson has variable size sports geometry, clearance for wider tyres and hidden mudguard mounting points.
On the Robinson we still run with the fast handling variable sports geometry and ample clearance. Special features for this model are switchable allow dropouts, allowing for geared and single speed builds, plus 103 or 135mm rear hub spacing (or even 142 thru-axle hubs, if required).
The Darwin features our own design CNC machined ADS-3 dropout system, which allows for derailleur, hub gear and single speed drive trains. This incorporates the disk brake which remains neatly out of the way of racks and luggage. Notably the Darwin has been tested for use with the Gates carbon belt drive and features a 'split' right and seat stay to facilitate this option.
Why have we selected to use Reynolds tubing? "Heritage & Quality" – is the answer.
Birmingham based Reynolds Technology Ltd (RTL) has a long history in the tube making industry. World renowned in the bicycle industry, with no fewer than 27 Tour de France champions crossing the finish line atop bicycles built with Reynolds tubing. Why would we want to use anyone else's tubing?
Our flagship road frames, the Kings and Wolfson are made from Reynolds 853, so what's in a number?
The benefits of air-hardening steels are particularly noticeable in the weld area, where unlike conventional steel alloys, strength can actually increase after cooling in air immediately after welding. 853 is heat treated to give high strength and damage resistance, and the steel properties allow thin walls to be used, so that lower weight but fatigue-resistant structures can be made.